Biography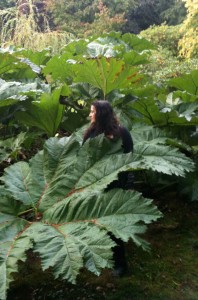 Dominique Lacloche was born in 1960 in Rome (Italy). She lives between Paris and London.
For more than 20 years Lacloche has been making works inspired by the texture and shape of the Gunnera Manicata plant, dating from the Jurassic era.
Lacloche's method is exploratory and empirical: an initial experiment of photographic revelation on the giant Gunnera leaf generated the first « image-leaf ». introducing the beginning in a series of works; a 'Mise en Abyme' of layers of stratum, using the porosity within and without the different material surfaces, experimenting in photography, sculpture and immersive installations.
Equally interested in evolutionary and organic temporal systems, Lacloche has also explored these themes in film, digital animation, sound design and electroacoustic music composition.
Lacloche's artistic work is enlightened by her vision in painting and architecture, disciplines she has studied and practiced for many years.
Lacloche's works are present in several private collections around the world.
Dominique Lacloche is represented by the Tristan Hoare Gallery in London and the Loo and Lou gallery in Paris (France).
Dominique Lacloche
Email       dlacloche@hotmail.com
Mobile     00 33 678402331
Website   dominiquelacloche.com